Posts
Written By:
Nazmul
06/05/2013 13:26
Human rights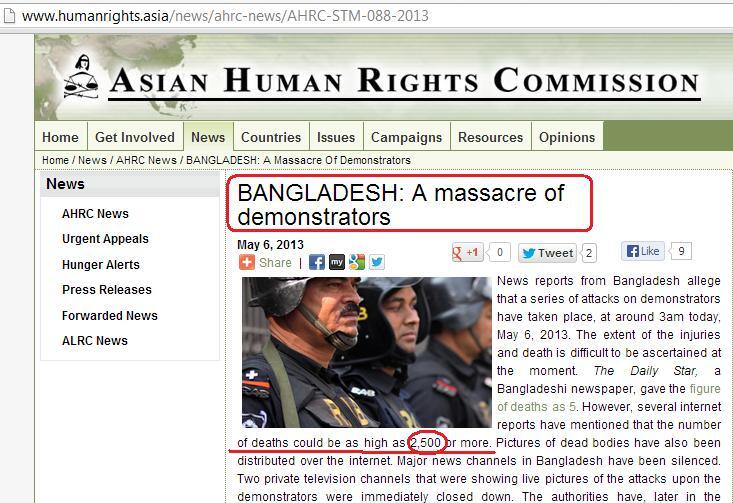 News reports from Bangladesh allege that a series of attacks on demonstrators have taken place, at around 3am today, May 6, 2013. The extent of the injuries and death is difficult to be ascertained at the moment. The Daily Star, a Bangladeshi newspaper, gave the figure of deaths as 5. However, several internet reports have mentioned that the number of deaths could be as high as 2,500 or more. Pictures of dead bodies have also been distributed over the internet. Major news channels in Bangladesh have been silenced.
Two private television channels that were showing live pictures of the attacks upon the demonstrators were immediately closed down. The authorities have, later in the morning, imposed Section 144 of the Code of Criminal Procedure, 1898, (a provision similar to declaring internal emergency) in the city of Dhaka, under which more than four persons are not allowed to converge in public places and the declaration absolutely prohibits public protest. Worse, the executive authorities could use deadly force against civilians under this provision. All forms of public gatherings, rallies and protests have been prohibited until the midnight today, May 6.
Read Details
BBC Bangla's Ugly partiality
BBC Bangla is seriously came under question because of its naked partiality. There was complain against BBC local Bangla service as they playing a pro-government role since the public demonstration started at the begining of the year. But now their partiality became so ugly that BBC's world reputation of factual news will be questioned.

BBC Bangla in their report যেভাবে খালি করা হলো শাপলা চত্বর claimed that their reporter Kadir Kallal was in ground whole night and saw only 4 dead body. It is surprising how naked, blattant lies they can produce in the name of BBC. Do BBC head quater know this?BBC Bangla simply used as a Government Propaganda Machine.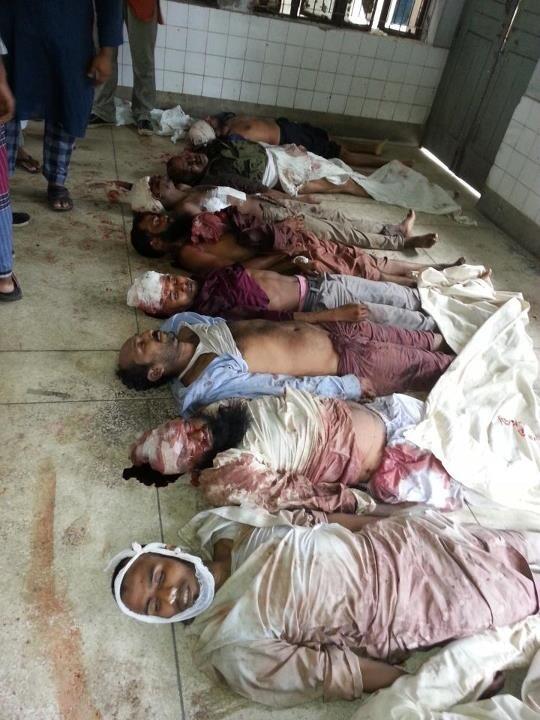 Image: Several Dead body in Hospital Floor
See the Similar Post ; End of an era
2nd "Operation Searchlight" in Dhaka: Is Hasina in the twilight of her demise?
45045 views
1 comments
Share this post: http://bit.ly/YpAhkB
Tweet
May 5 Massacre
Bangladesh
genocide
BBC Bangla
Human Rights
---
Comments
NUKE 06/05/2013 13:43

thanks for the post..please keep us updated ,as u know they(government) gonna shutdown all source of true news..

reply
---
Write a comment
Please login first.
It only takes few seconds to register.